Welcome to Eureka Springs Treehouses
Well if you are looking for the typical Eureka Springs Lodging Experience you have come to the wrong website! You'll won't find any Victorian frump here or even cabins sitting on the ground!
What we offer is definitely the unexpected.
We offer ten Treehouses with 4 different themes…Venice…Santa Fe, Central Park & Manhattan!

A quote from one of our first guests:
"From the moment we drove thru the gate we felt we had arrived at a romantic Disneyland! There was so much thought put into every detail. The welcoming bear, the waterfall and all the surprises outside of each treehouse. The colorful front windows, they just made us smile. We had booked a Venice Treehouse and we arrived at dark, when we walked in, the arch twinkle lights were on along with the wall sconce and it looked like the entire cabin was candlelit. It was just so romantic. Who would of ever thought to paint it orange?!? Don & Elaine you two should have your own HGTV Show! We loved all the dimmer switches especially the one by the bed that controlled the sconce. You even had the thoughtfulness to have a place to plug in our phone chargers. Now that is attention to detail. We'll never stay anywhere else. THANK YOU!"
Sam & Suzie Watts, Tulsa, OK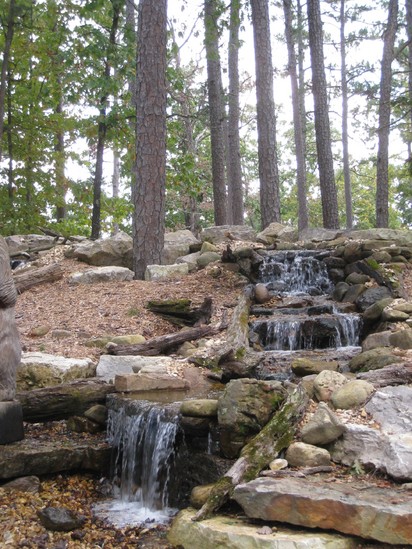 ATTENTION!!!
Lets face it, most of Eureka Springs lodging offers Victorian decor or plain white walls! Well if that is what you are looking for, you have come to the wrong website! Eureka Springs Treehouses is totally fresh and inspiring. What we offer is Unique & FUN... THINK...Trading Spaces, HGTV, Christopher Lowell and you'll get the idea!
We know you are busy and may not want to spend a lot of time reading fluff…so we'll try to give you the short version up front and then if you want to know more you can browse this site and find out just about everything there is to know about us, the Treehouses and Eureka Springs!
Bottom line is we offer Themed Treehouse Lodging with or without Imaginative Packages. Be sure to check out the Package offerings by clicking on the "Package" button on the top left side of this page.
All our accommodations are Non-Smoking, but you can smoke out on your deck.
ALL the Treehouses feature a Jacuzzi for 2, Fireplace (in season only), Living Room with Cable with a Samsung 40" Flat Screen TV/DVD (Ultimates have a 46"), Kitchenette with Refrigerator, Microwave & Coffeemaker with Coffee, Bedroom with a King Bed, Cable TV/DVD and a bathroom with stall shower.
And to top it all off a wonderful deck and of course wireless Internet!
Rate vary between $119.00 to $179.00 depending on season and day. You can check pricing by checking the availability for the dates you want to come in.
A minimum of a two-night stay is a required and occasionally due to guests scheduling may require a 3-night stay.
Holidays, festivals the October weekends require a minimum of a 3-night stay.
You can check availability & rates online.
The Availability Button is on the left side of this page.
So if that was enough info, just click on the View Rooms Button to the left of this page and start planning your adventure.
For those who still want to know more…
Elaine & Don arrived in Eureka Springs in August 2002! This website is written by Elaine with Don's approval of course! For the past 5 years we have been building, remodeling and decorating…HGTV style at our other location Oak Crest Cottages!!!
Fortunately for us, our daughter Dawn & her husband Ben (our wonderful son-in-law) have now come on board.
Prior to us arriving in Eureka Springs we had stayed in 4 different treehouses across the US and in Europe. Some rather primitive and some a bit too fancy. As a child I had always wanted a treehouse. So three years ago I got my long time wish and we built 3 of them at our Oak Crest location. They turned out to be so much fun that we decided 3 was just not enough so we have now built another ten at our new location...Eureka Springs Treehouses. So that is how it all began.
So if you are a fan of HGTV and/or Trading Spaces, just wait until you visit Eureka Springs Treehouses
Anyway, I'm getting a little carried away here. I promised you just the facts!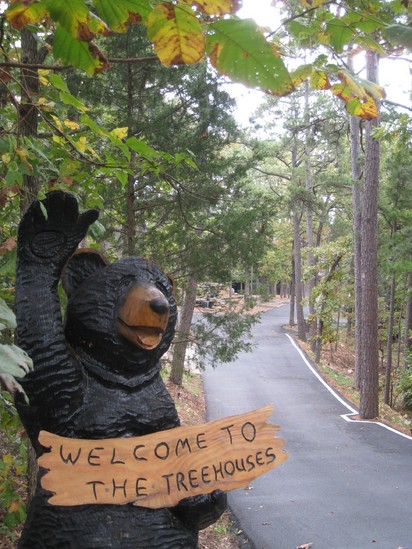 So here goes…
ALL our accommodations are Non-Smoking!
Smoking is permitted out on your deck.
ACCOMMODATIONS…
Check them all out under "View Rooms" on the left hand side of this page.
You enter thru a gated entrance and there is a on site manager to cater to your needs. The Treehouses are perched in the trees on the side of a holler. All have a private deck that looks out into the woods.
Uniquely decorated, not at all what you would expect! I won't spoil the surprise, but I will give you a hint. For one of them think NEW YORK CITY!!!
LOCATION...LOCATION...LOCATION... We are located not far from the historic shopping district. We are only minutes from the Passion Play and all the other attractions. There are also several restaurants within walking distance. We are close to a trolley stop so your vacation will be one of convenience with no traffic worries.
OTHER STUFF...
We offer tons of packages from the most simple of Weddings, to our Ultimate Wedding Package to Massages for 2 at a wonderful Day Spa and to our most popular Romance Package which consists of Rose Petals, Candles & Champagne.

Our goal is to make your stay a unique & memorable one!